Nmav's 2020 results
The best outcomes from the projects are highlighted as following:
Goal A: Knowledge and skills development:
Successful launching gender and inclusion training program in 21 schools in project sites, achieved 120% compared to the plan. The program is endorsed and integrated into the school curriculum by district department of training and education. Foremost, about 2300 students gained knowledge about gender and inclusion, an increase from 45 % and 8 % to 84% and 73% respectively. 99% of them showed that the best behavior when meeting friend with disability is talking with and support.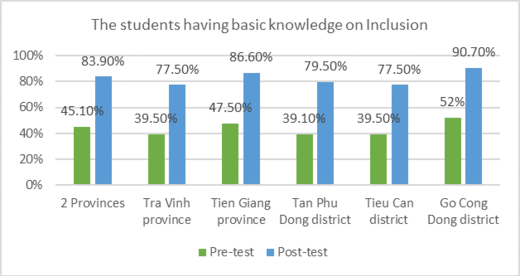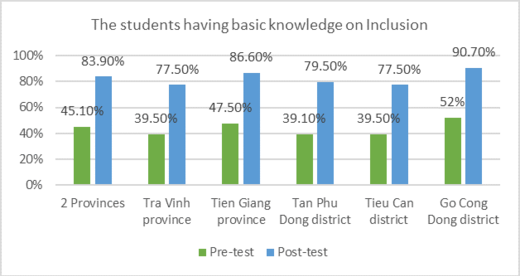 Great impact of women training program. The program has been scaled up to almost the entire women network in Tra Vinh (7 of 9 district and city). During the year, women union were inspired through the project to create 162 additional women environment clubs aimed to say no to plastic bags and disposable plastic products. The model can even scale up to national level as it is totally in line with national women program on improving the role of women in environment protection.
Goal B: Sustainable income
Despite of negative impacts of Covid 19 and saline intrusion, MOM managed to exceed their targets in 2020 in both quality of portfolio (PAR: 0.08%) and client growth (1 % positive growth after two years of negative growth) and net profit was around 1 million USD as MOM quickly institutionalized new procedures in working with clients for different scenarios to combat with the infection.
The Start your own business (SYB) training achieved a considerable high level of startup. 72% trained women started their own business of which 89% had income and 67% got surplus. The synergy of microfinance and entrepreneurship has improved. The MOM board decided that graduated women with a good business plan can apply for a loan up to 50,000,000 to start her business. In the future the experience from this practical women entrepreneurship training can be shared to entire women network inline with the national program "Support for women starting a business in 2017 – 2025"[1].
Goal C: Disability inclusion
Can Tho CAPD and its members gained much knowledge and skills in the field of disability, the right and ability of people with disability (increased material and social capital). The PWD have confident to go out, to take part in the society (power within) and further educate other peer groups, local authorities to change their attitudes about the right and ability of PWD (power with). 81% of 425 DPO members knew about the rights of PWD and informed other people about the rights of PWDs. Peer counselling at the home of the most severe PWD made local authorities pay attention to and increased their accountability. This motivated the PwD to go out and have their voices heard.
Can Tho CAPD gained high position among DPOs network in the South of Vietnam and is appreciated by DPO members and local government for its contributions to change the attitudes of public and authorities and to influence local policy makers (power with and to). The DPOs are important stakeholders involved in developing and reviewing the provincial policies for PWDs in Can Tho. The DPO offers different services for PWDs such as legal consultants, peer consultations etc.; They also works directly with governmental officers on certification on disability, supports PWDs access to national loans, provide loans, vocational training/ jobs creation, start- up and mobilize local aids. (further pls. check the final evaluation report)
10 out of 14 PWD trained through the job training program had stable job and enjoy better life. All of them got at least basic salary/income; 4 have higher salary compared to regional basic salary and got benefits from their company; 6 have monthly saving for their future development.
---
[1] Project 939/QD-TTg "Support for women starting a business in 2017 - 2025" was approved by the Prime Minister on June 30, 2017